Pseudo-streaming for HTML 5 and Flash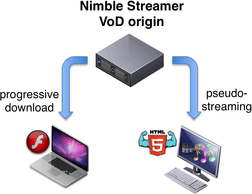 Nimble allows streaming progressive download out of the box
Check this example of setting up progressive download
If you decide to stream using HLS rather than progressive download some day, we provide MP4 re-packaging for HLS origin streaming with AAC and MP3 to HLS capabilities and also produce HLS from UDP MPEG-TS as origin.
If you need Icecast, check transmuxing of RTMP to Icecast streams.
Watch this online demo to see progressive download in action.
Easy installation and upgrade
Nimble Streamer can be installed in a couple of small steps and upgraded to the latest version by running two or three simple commands in console.
Let us know if you need any help and search through our documentation to find more information.