Real-Time Messaging Protocol (RTMP) in Nimble Streamer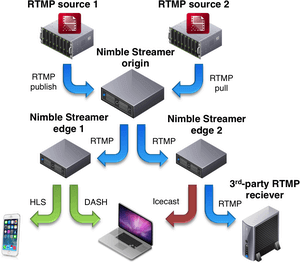 Nimble Streamer takes published and pulled RTMP to make outgoing RTMP streams for further playback, re-publishing and further usage by other software. This makes Nimble to be an efficient full-cycle RTMP streaming solution. Enhanced interleaving compensation can be set up in case when your audio and video are unsynchronized.
Nimble Streamer supports RTMP over SSL (RTMPS) to perform secure transmission in all supported modes.
The content may also be taken as input via RTSP, SRT, MPEG2TS, Icecast and SHOUTcast. You can also convert HLS to RTMP using the same transmuxing engine.
Farewell to Flash
Before diving into wide Nimble Streamer RTMP feature set, take a look at our Get ready for Flash farewell and RTMP decline article about future discontinuity of Flash support by Adobe in 2020.
We describe the need to transitioning from RTMP to other technologies for playback purposes and we propose SLDP as an alternative.
However, RTMP is still a powerful tool for a lot of use cases so take a look below at what we have.
Codecs
Video:
Audio:
AAC input and output is supported via all protocols
MP3 input and output via all protocols
Speex input and output via RTMP
Read more about supported codecs.
Producing HLS and MPEG-DASH
Playback
Nimble provides RTMP playback from any incoming RTMP stream.
The output can be pulled for re-use and playback by any player, encoder or server software.
Recording
Nimble Streamer has DVR feature set which allows recording of incoming RTMP live streams for further playback via HLS and MPEG-DASH.
Pull by request
Nimble Streamer can create RTMP and HLS streams by request from pulled RTMP sources in case you have streams which you don't want to pull 24/7.
This is helpful when you have many stations or cameras which are not required to be transmuxed all the time.
Republishing
You can set up RTMP republishing for incoming published and pulled streams. With that being set up, you can bring live streams to edge servers for further usage like transmuxing.
You can build live streaming networks with various origins and edges connected via RTMP as well as other supported protocols. Notice that you may add and remove republishing rules via WMSPanel API as well as via Nimble Streamer native API in addition to WMSPanel web UI.
With that capability you can re-stream your content in the following use cases:
Re-package into other live protocols.
Same transmuxing engine allows re-packaging RTMP content into the following protocols.
Server-Side Ads Insertion for RTMP
Nimble Advertizer supports inserting of advertising into RTMP live streams on server side.
Advertizer allows implementing custom business logic for pre-roll and mid-roll with user-specific insertion and SCTE-35 markers support.
Visit Advertizer page for technical specs and other details.
Hot swap
Hot swap capabilities allow switching between source origin and substitute streams with no glitches or artifacts:
Aliasing
Stream aliases are available for making flexible security settings and statistics.
Usage snapshot
Usage snapshot shows example of combined usage of Softvelum products including processing camera input.
Qosifire: RTMP streaming quality monitoring
Qosifire is live streaming quality monitoring service, it allows checking live RTMP for protocol-specific issues.
Your on-premise monitoring agent checks the stream 24/7 and notifies our web service about issues, in order to send mobile alerts to your admins.
Check RTMP monitoring features and screencast to see how Qosifire can help you.
Easy installation and upgrade
Nimble Streamer can be installed in a couple of small steps and upgraded to the latest version by running two or three simple commands in console.
Let us know if you need any help and search through our documentation to find more information.