Create streaming infrastructure with our products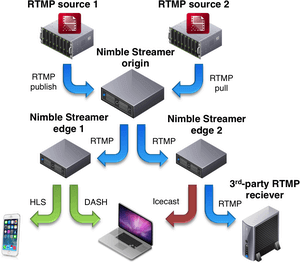 Our products allow implementing various streaming scenarios. The techniques and features mentioned below can be used for your use cases.
You may also find useful the step-by-step adoption guide showing how Softvelum products can applied to your infrastructure during the trial period and beyond it.
Nimble Streamer has excellent feature set for live streaming. That includes support of transmuxing between all live streaming protocols as well as excellent transcoding feature set.
Read this section for more details.
Nimble Streamer supports of transmuxing files into HLS and MPEG-DASH streams as well as progressive download and HTTP re-streaming.
Read this section for more details.
Usage snapshots show examples of combined usage of Softvelum products for building streaming infrastructure.
High performance solution
Nimble Streamer is the most efficient software media server on the market. It's very fast and has low resources consumption. Check the following features to see how it can be used.
Load balancing based on Nimble Streamer API can be used to build scalable streaming. That includes 2 balancing options - based on a load of each server and based on geo-location of each visitor.
Take a look at example of building delivery network based on RTMP re-publishing from origin to edge. There you can use balancer to switch users between edges.
Deployment
Nimble Streamer has a set of deployment options. It's easily installed on hardware and VPS, and its management is done via web UI.
Easy installation makes it available on most popular Linux distributions as well as on Windows and MacOS OS.
Having x64, ARM and POWER8 support, Nimble can be embedded to any supported hardware still having high performance.
Automated deployment options make it easy to scale your infrastructure.
Nimble Streamer can be easily upgraded to the latest version by running two or three simple commands in console which is crucial for 24/7 delivery.
Server is controlled via WMSPanel web UI available via any browser.
You can apply control operations to multiple servers. So applying a new scenario will take a few clicks.
You can also grant permission to non-admin users to control particular Nimble Streamer instances.
Nimble Steamer is also available as an image in Microsoft Azure Cloud so you can deploy a new instance in a minute.
Integrating with API
For convenience of our products' integration a set of APIs is available.
Streaming from mobile devices
Larix mobile broadcasting library allows streaming live from any iOS or Android device. It's delivered via SRT, RTSP and RTMP protocols which provide low-latency and high efficiency.
You can try the library in action using free Larix Broadcaster application.
Check it as part of streaming scenarios with broadcasting to YouTube as a destination.
Publish control
Taking incoming streams from multiple sources like mobile apps brings the risk of un-authorized streams publication.
This is why WMSPanel and Nimble Streamer provide publish control framework to cover that.
It allows controlling all incoming streams via RTMP and RTSP protocols to make decisions about authorizing the stream. It works both at connection time and during the streaming so the un-authorized sources can be blocked any moment.
Server tasks management
Nimble Streamer and WMSPanel allows controlling server-side streaming tasks for multiple servers and multiple commands with no need to log in via SSH.
This can include any stream processing as well as streaming environment setup.
Qosifire: live streaming quality monitoring
Qosifire is live streaming quality monitoring service. It allows checking media streams for protocol-specific issues and various quality parameters.
Check Qosifire website to see how this product can help managing your infrastructure.
Last but not least.
WMSPanel provides an excellent reporting framework which covers every aspect of streaming process and gives detailed metrics of your audience. It also allows setting up white label of your stats to represent them to your customers.
Visit Reporting section of our website to learn more.
Easy installation and upgrade
Nimble Streamer can be installed in a couple of small steps and upgraded to the latest version by running two or three simple commands in console.
Let us know if you need any help and search through our documentation to find more information.