Video-on-Demand features of Nimble Streamer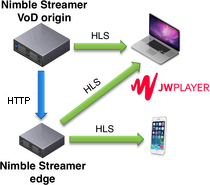 Nimble Streamer provides extended capabilities for video-on-demand streaming. This includes re-packaging content into ABR HLS and MPEG-DASH protocols as well as streaming via progressive download.
Input specs
HLS and MPEG-DASH transmuxing creates a stream from file in a file system.
Supported formats: MP4, MP3, AAC, F4V.
MP4 is supported as video+audio, video, audio, original MP4, Apple QuickTime extension.
Both H.264 and H.265 video is supported.
EditListBox MP4 atom is supported.
Progressive download allows streaming files with no re-packaging
Supported formats: mp4, mp3, flv, oga, ogv, wav, webm, mkv.
Seeking is supported by HTTP Range header and Flash time marks.
HLS and MPEG-DASH processing
Output protocols
The supported output protocols for VOD are
Output options
Paywall
Nimble Streamer is used for building secure content delivery networks.
Easy installation and upgrade
Nimble Streamer can be installed in a couple of small steps and upgraded to the latest version by running two or three simple commands in console.
Let us know if you need any help and search through our documentation to find more information.